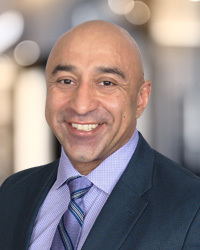 Rajan Joshi
Criminal Defense & Personal Injury Attorney – Founding Partner
Rajan is a high profile attorney who has been featured on CNN, Dr. Phil, Fox, The Today Show, Headline News and countless national and local news stations for cases he has handled. He is a reoccurring guest on Behind the Law to discuss criminal law issues and cases. He has successfully represented politicians, CEO's, numerous doctors, lawyers and some very prominent individuals.
Central Florida Criminal Defense Lawyer Rajan Joshi received his Bachelors degree from the University of Central Florida in 1996, and earned his law degree with Honors from the University of Florida College of Law in 2000. While in law school, Rajan Joshi demonstrated academic excellence, earning the highly coveted Book Award in Criminal Procedure (highest grade). Mr. Joshi was also selected and employed by the Dean of Student Affairs to tutor first-year contract students and conducted his own class to prepare the students for their final exam. Mr. Joshi also worked as a legal intern at the Seminole County State Attorney's Office and at the Alachua County State Attorney's Office. The Florida Supreme Court certified him as a legal intern prior to completing law school, which allowed him the opportunity to argue six jury trials prior to graduation.
Rajan Joshi scored among the Top Five Highest Scores in the Bar Exam for the entire State of Florida. Based on this performance as well as his stellar academic achievements, the Chief Judge of the Fifth District Court of Appeals selected him to be the Valedictorian speaker at the October 2000 induction ceremony for newly sworn lawyers in Orlando. I'm ranked as a Top Attorney based on my superb rating with AVVO.
Defense attorney Rajan Joshi started his legal career as an Assistant State Attorney in Jacksonville, Florida. In his four years working as a state prosecutor, he further developed his trial abilities both in criminal prosecutions and in post-conviction motions. Within his first year, he was promoted to the felony division, and then based as his aggressive, ethical and superb performance as a prosecutor he was promoted to the Repeat Offender Court a year later, where he prosecuted habitual felony offenders and Violent Career Criminals for every serious crimes for his remaining two years as a prosecutor. Rajan Joshi received the 2003 Jury Trial Award for trying more case than any prosecutor in the Fourth Judicial Circuit, which includes Duval, Clay and Nassau Counties.
In 2004, after leaving the State Attorney's Office, Mr. Joshi joined an AV rated (top ranking) law firm in Jacksonville and dedicated his practice to criminal defense for the next two years of his legal career. During his two years as a criminal defense attorney in Jacksonville, Mr. Joshi primarily handled all types of criminal cases from misdemeanors to all kinds of felonies, including Capital Felonies.
In 2006, he returned to central Florida where he grew up and his family has lived since Mr. Joshi was three years old. Shortly after his return, Mr. Joshi joined the prestigious NeJame Law Firm. His legal talents and skills were quickly realized, and within his first year he became a Partner with the firm. In 2014, the National Trial Lawyers Association recognized Mr. Joshi as one of the Top 100 Trial Lawyers.
Rajan pictured below with past president Barack Obama and Reverend Jesse Jackson.
Mr. Joshi has tried first degree murder cases, Rico, federal cases, rape cases, theft cases, drug trafficking, robberies, burglaries, aggravated assault and battery, domestic violence, attempted murder, DUI's, among many other cases.
In 2015, Mr. Joshi resigned his partnership with the NeJame law firm and became the founder of the Joshi Law Firm, PA. Later that year Mr. Joshi was recognized as a Top Attorney of North America by the Who's Who Directories. In 2016, the American Institute of Criminal Law Attorneys selected Mr. Joshi as one of the Top Ten Attorneys in Florida.
Joshi Law Firm, PA has among the brightest legal team that takes care of their client's legal needs to make sure their rights are protected. Their goal is to achieve the absolute best result for their client's. Rajan Joshi has tried and handled thousands of criminal cases, both misdemeanors and felonies. He represents clients charged with a wide variety of offenses, including but not limited to, white collar crimes, Racketeering, DUI, domestic violence, sex related matters, drug possession, delivery and trafficking cases, theft cases, cases involving violence and homicide. Mr. Joshi practices in both State and Federal court, and handles post-conviction relief matters, as well, specifically motions to overturn prior criminal convictions.
Mr. Joshi enjoys dissecting and analyzing the intricacies of the law, striving to explore every possible defense on behalf of his clients. He is skilled in a vast array of practice areas, eagerly taking on the most daunting legal challenges. It is with this tenacity and skill that Rajan Joshi approaches each and every case. Mr. Joshi also shows compassion the clients he represents and makes it a point to keep them informed about the status of their cases while they are pending.
Rajan Joshi has also been successful in overturning prior convictions through post-conviction relief motions in cases where the conviction is leading the a non-citizen to being deported. In 2007, Mr. Joshi was successful in having a trial judge declare a Florida Statute that his client was prosecuted for was Unconstitutional because Mr. Joshi successfully argued that the State Statute violated several provisions of the United States Constitution. The State appealed the trial courts decision, and the trial court's ruling was upheld by the Fifth District Court of Appeals which led to the Statute being found Unconstitutional throughout the State of Florida. In 2007, Rajan Joshi had a jury find his client not guilty of Attempted First Degree Murder in less than a half an hour of deliberation despite the fact that the victim testified that Mr. Joshi's client stabbed him at least seven times. In both 2007 and 2009, Mr. Joshi was successful in convincing the prosecutors to drop Murder charges in separate cases after Mr. Joshi had conducted discovery and successfully exploited the weaknesses in those cases. In 2009, Mr. Joshi had a jury find his client not guilty of two counts of Sexual Battery in which the jury deliberated for less than ten minutes. In 2011, Mr. Joshi was successful in representing a doctor who was accused of Solicitation to Commit Murder on another doctor along with several other charges, and had two of the charges reduced to misdemeanors where Mr. Joshi's client only received probation and had all the Felony charges dropped.
In 2012, Mr. Joshi got a Sexual Battery charge dropped when he successfully convinced the prosecutor through DNA evidence that his client could not have been responsible. Mr. Joshi had represented a client who was charged with Attempted Murder, Home Invasion Robbery and several other felony charges when he and his co-defendants broke into another person's house, attacked a house guest with a taser and then Mr. Joshi's client allegedly shot the owner of the house in the chest. Mr. Joshi's client faced a minimum-mandatory prison sentence of twenty-five years day for day and up to Life in prison. Despite being arrested within minutes of the shooting, Mr. Joshi was successful in getting almost all the physical evidence suppressed (thrown out of court) by successfully arguing to the Judge that the police unlawfully stopped and searched his client. Although the co-defendants still agreed to cooperate with the State against Mr. Joshi's client in exchange for them receiving reduced prison sentences, after filing multiple motions and after intense litigation, Mr. Joshi was successful in getting the majority of the charges dropped and having his client only sentenced to probation. In 2015, Mr. Joshi was successful in having a Circuit Court Judge grant his client a new trial for the charge of Attempted First Degree Murder and Armed Robbery where the alleged victim was shot, by successfully litigating during an intense post-conviction hearing and convincing the Judge that the attorney who previously represented this client and tried the case in 2008 was ineffective at trial. These are just a few of Mr. Joshi's successes.
Mr. Joshi's clients have include individuals from various backgrounds and he has represented numerous law enforcement officers, doctors and family members of politicians. Mr. Joshi has handled some extremely high profile cases that have gotten both local and national media coverage, including on the Today Show and Nancy Grace. Mr. Joshi also has written several legal articles for the Orlando Sentinel and the Orlando Style Magazine.
Mr. Joshi strongly believes that anyone charged by the State or the Federal Government needs an aggressive defense and does everything he can to ensure that his clients are protected with the Rights the Constitution has provided to every one in this Country.
To learn more about Mr. Joshi, and to stay up to date please visit his YouTube channel!
Practice Areas
Criminal Defense
Immigration
Business Law
Education
University of Florida, Levin College of Law, 2000 J. D. Honors
University of Central Florida, 1996 B.A.
Contact
Phone: (407) 661-1109
Email: info@joshi-law.com
Licensed To Practice
Florida State (Statewide)
Federal Middle District of Florida
Member
Former Officer of the Central Florida Association of Criminal Defense Lawyers
American Immigration Lawyers Association
Florida Bar Association
Orange County Bar Association
Honored Member of Cambridge's Who's Who Registry of Executives, Professionals and Entrepreneurs
South Asian Bar Association
Phi Delta Phi Legal Honors Fraternity
Pi Kappa Alpha Fraternity
Former Legal advisor to American Association of Physicians from India (AAPI)
Orlando Indian American Chamber of Commerce
Languages
English
Punjabi
Working proficiency in Hindi
Practice Areas
Criminal Law
Immigration Law
Business Law