Florida Man Arrested For Investment Scams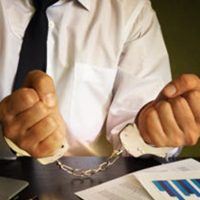 Many people are motivated by money. But instead of working for their money, they scam innocent people out of their hard-earned money. Scams are a type of fraud, which is often classified as a white collar crime. These crimes are typically punished aggressively.
A 54-year-old man from Cape Coral was recently arrested for investment scams. The man stole hundreds of thousands of dollars from at least 20 victims via fraudulent schemes. He faces multiple criminal charges, including embezzlement, racketeering, illegal practices regarding securities and investments, sale of unregistered securities. and violations of the Florida Securities and Investor Protection Act.
In one scheme the man implemented, he urged more than a dozen victims to invest in Laroche Real Estate Investments, LLC. He told the victims that he bought and flipped houses and would give them 10% interest annually on their investments. However, the man never bought any houses to flip. Over the course of eight years, he purchased five properties and sold four of them. He collected more than $672,000 from the victims, but they were repaid just $93,500 in total.
The man is also accused of getting people to invest in a rideshare app. The man, however, never owned any taxis nor did he ever make the app public.
In a third scam, the man convinced a neighbor to give him $15,000. The purpose of the money was to invest in a car company but the man never purchased the stock.
The Florida Department of Law Enforcement and The Office of Financial Regulation investigated the case jointly. The investigation is ongoing. Agents believe there could be additional victims.
Investment Scams
Investment scams are a type of fraud that involve coercing a person into investing money for a specific company or purpose. Scammers may try to get a person to invest money in stocks, commodities, currency, or even real estate. They may lie and create fake companies or false opportunities to get people to invest their money. Older people are often targeted because they tend to have a lot of money, but anyone with money can be a victim.
Here are some signs that an opportunity is a scam:
It seems too good to be true.
The person claims to know a lot about your retirement/investment needs.
The person does not have the right paperwork regarding the investment.
The person is aggressive and wants your money right away.
Contact Us Today
White collar crimes like scams and fraudulent activities are not physically harmful like assault and other crimes but they still cause a lot of damage. State and federal laws may apply, resulting in serious charges.
The penalties for white collar crimes can easily wind up in the millions of dollars. A skilled Orlando white collar crime lawyer from Joshi Law Firm can help reduce your potential penalties. To schedule a consultation, call (407) 661-1109 or fill out the online form.
Source:
winknews.com/2022/11/09/cape-coral-man-arrested-accused-of-investment-scams/